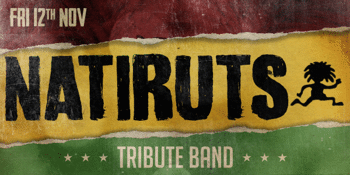 Natiruts Tribute
Indian Ocean Hotel (Scarborough, WA)
Friday, 12 November 2021 8:00 PM
The Brazilian music mixed with reggae roots band Natiruts is one of Brazil's most popular acts. The band's raw and resounding message is characterised by typical Dub effects and drum and bass that set a strong rhythm both contagious and imposing.
Natiruts evokes the MPB environment in a musical construction that flirts with bossa nova, while the bass and slight reverbs give the composition the distinct reggae touch. Natiruts has rewritten a part of Brazilian music and reggae history and their work has spread to every part of Brazil and many parts of the world including sold-out tours in Europe and Australia.
Don't miss out on this unique opportunity to check out their greatest hits played by the best Brazilian musicians in Perth.