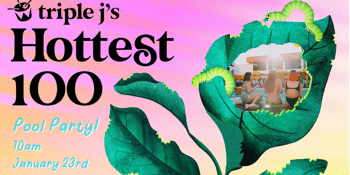 Indian Ocean Hotel
Triple J Hottest 100 Pool Party
Indian Ocean Hotel (Scarborough, WA)
Saturday, 23 January 2021 10:00 AM
🔥 Triple Hottest 100
🔥 Cold beer
🔥 Poolside
Name a better trio.. We'll wait.

Triple J has once again opened the polls for their iconic Hottest 100, and we invite you to join us for a listening party, poolside - surrounded by your mates, at the Indian Ocean Hotel.

Who will take the title? Billie Eilish? Glass Animals? Perhaps Perth natives Great Gable, or Spacey Jane?

Place a cheeky bet, have a dip in the pool, and enjoy a day of bloody good music.
Have your say!

🔥🔥🔥

Help Lifeline support young people across Australia when they need it most.
triple j is teaming up with Lifeline for this year's Hottest 100 to help more young people who are struggling.
You can make a donation or buy this year's Hottest 100 t-shirt on the Triple J website here.
🔥🔥🔥

Tix available through Oztix - $5

🔥🔥🔥

...Oh, and did we mention - Toastface Grillah is holding it down in the kitchen! It aint easy bein' cheesy but damn they make it look good. Check out their golden brown menu, dripping with deliciousness, and toasted to perfection.

🔥🔥🔥

Help keep WA live music venues, bars, restaurants and people safe!

Download the SafeWA app if you haven't already as you will be required to sign in on entry to the venue.

🔥🔥🔥

We are a cashless venue

🔥🔥🔥

Indian Ocean Hotel
www.indianoceanhotel.com.au
23-27 Hastings Street, Scarborough Beach
(08) 9341 1122