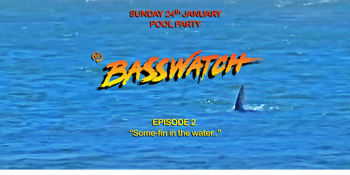 Extended Play
BASSWATCH - DNB Pool Party - Episode 2
ESYM | DINOSAWR | ELLICTT | SAMANTICS v YATTAMAN | T-PICKLES | COMP WINNER
Indian Ocean Hotel (Scarborough, WA)
Sunday, 24 January 2021 12:00 pm
Extended Play Presents...
BASSWATCH - DNB Pool Party!!
Episode 2 - "Some-fin in the water.."
Beware of the Drum & Bass... There's been reports of a frenzy in Scarborough!!
It's a 90's Baywatch Theme - Drum & Bass Pool Party.
_________________
DJs
ESYM | DINOSAWR | ELLICTT | SAMANTICS v YATTAMAN | T-PICKLES | COMP WINNER
_________________
Enjoy delicious the Summer Cocktails & awesome food from Toastface Grillah as the Indian Ocean Hotel goes wild with Beach, Bass & of course Basswatch Babes!!
Stay tuned into the event page for Basswatch Pool Party news & themed merchandise.
GOT BASSWATCH MERCH ALREADY? - You LEGEND! Just rock up on the day between 12pm & 2.30pm for 50% off the door price!!
Online Tickets Start from $15 +BF
See you there!