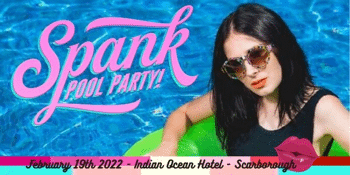 Yanique Entertainment
Spank Girls Party
Indian Ocean Hotel (Scarborough, WA)
Saturday, 19 February 2022 12:00 pm
In a hidden tropical oasis meets tiki bar, Spank will launch its first Ladies Pool Party 2022 at the Indian Ocean Hotel!
All females, including all who identify as female, are welcome to experience the fun, summer vibes of the three year running, annual Spank Pool Party!
All female DJs and entertainment including DJ Her Highness and DJ Dips, fun games and comps to make it a staycation to remember!
To launch this awesome new ladies pool party by Spank, check out our early bird deals which have been slashed even more...
Check out the spank.aus instagram and facebook page for special promos!
Spank is brought to you by Yanique Entertainment Perth.