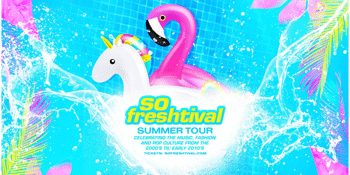 So Freshtival Summer Pool Party Perth
Indian Ocean Hotel (Scarborough, WA)
Saturday, 14 December 2019 12:00 PM
It's heating up and SO FRESHTiVAL is back again!

Bust out the bikini, and your favourite baggy boardies!
As we're Celebrating the music, fashion & pop culture from the 2000s - early 2010s!

A throwback party your younger self could only have dreamed of! Featuring:

INFLATABLE POOL TOYS
FREE ZOOPER DOOPERS
CHAMPAGNE SHOWERS
FREE WATERMELON
BALL PIT
FIREWORKS
CO2 GUNS
FREE 2000'S BODY PAINTING
FREE FAIRY FLOSS

BEST 2000S OUTFITS WIN PRIZES

DJs all day playing all your fave So Fresh hits from the 2000s - early 2010s from the likes of:

Aqua, Eminem, 50 Cent, Alicia Keys, Ashanti, Avicii, Avril Lavigne, Backstreet Boys, Beyonce, Britney Spears, Christina Aguilera, Destiny's Child, Eve, Fergie, Flo Rida, Gwen Stefani, Hannah Montana, High School Musical, Jason DeRulo, Ja Rule, Jesse McCartney, JoJo, Justin Bieber, Justin Timberlake, Kanye West, Katy Perry, Ke$ha, Kelly Clarkson, Lady Gaga, Lizzie McGuire, LMFAO, Mariah Carey, Mario, Mary J Blige, Metro Station, Miley Cyrus, Nelly, Nelly Furtado, Nicki Minaj, Nikki Webster, One Direction, Outkast, Pitbull, Rihanna, S Club 7, Shaggy, Shakira, Shania Twain, Smash Mouth, Soulja Boy, Taio Cruz, Taylor Swift, The Black Eyed Peas, The Veronicas, Timbaland, Usher + many more!