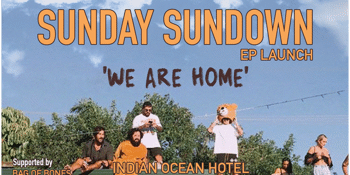 Sunday Sundown
Bag of Bones, Dear Sunday
Indian Ocean Hotel (Scarborough, WA)
Friday, 20 March 2020 8:00 PM
Local Indie-Rock five piece band Sunday Sundown are excited to Launch their new EP 'WE ARE HOME' !
Inspired by the coastal lifestyle these lads have created their own unique sound.
With the release of their first two singles gaining recognition from the local scene and creating a loyal fan base, their shows have had high energy with solid support.
"Sure enough, it did what it said on the tin: feel good, chilled back, glorious Indi Rock n Roll." -Around the Sound Music.
The lads are psyched to share what they have been working on and no better place to launch it then the local watering hole.
With the two local support acts, Bag of Bones and Dear Sunday this will be a night to remember !