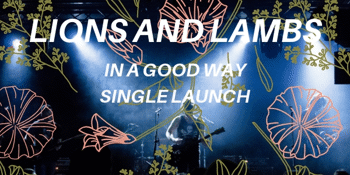 Lions and Lambs 'In a Good Way' Single Launch
with Being Beta, Calm Collected, Nein & Nervous Now
Indian Ocean Hotel (Scarborough, WA)
Saturday, 22 December 2018 8:00 PM
Lions and Lambs are proud to present their new single In a Good Way to be released on 17th of December 2018. To celebrate the release a launch party is being held at Indi Bar on December 22nd with support from Being Beta, Calm Collected, Nein and Nervous now.

In a Good Way heads in a more poppy direction than what the pop-punkers usually perform and takes huge catchy melodies and pairs it with infectious guitar riffs to create a love song that captures the way that someone else believing in you can make you believe in yourself.

Making their return to the stage for the first time in 2018 are Being Beta. Their album Read More Books was released in February this year and crowds will finally be able to hear the memorable hooks that make Beta a staple in the Perth scene.

Calm Collected have been a regular part of local rock shows for most of this decade and have steadily climbed to being a band that everybody in town knows. Made up of members of bands that are no more, the supergroup are set to pump crowds up like few others can.

Nein have exploded into the world this year with a charming and charismatic stage show like no other. All members of the band bring in their own influences to create a sound that is a fusion of grunge, punk, hardcore, rock and a little bit of everything. Frequently showing up the acts they support Nein are bound to get things moving with their hard-rocking anthems.

Newcomers Nervous Now are already proving themselves to be a force to be reckoned with. Their honest lyrics and multiple vocal lines create a connection with crowds and immediately win punters to their side. With tours already in the works Nervous Now are going to be a hard act to follow when they get the Indi Bar moving.