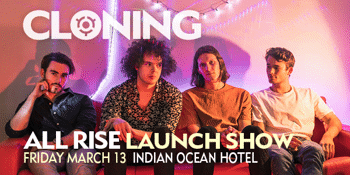 Cloning All Rise Launch Show
Indian Ocean Hotel (Scarborough, WA)
Friday, 13 March 2020 8:00 pm
After completing their first national tour, receiving a WAM Song of the Year nomination and releasing their debut EP in 2019, Cloning celebrate the release of their new single 'All Rise' at the Indian Ocean Hotel on March 13.
The outfit whose sound draws from rock, pop, trip hop and shoe gaze have enjoyed a meteoric rise during their brief existence. X-Press comments, "one moment they didn't exist, and the next they were measured against some of Perth's best. It's easy to see why".
The band's new song has already started to turn heads. Tone Deaf says, "it appears that Cloning themselves are a rare band whose talent is unmatched".
Catch Cloning at the Indian Ocean Hotel in Scarborough on March 13.