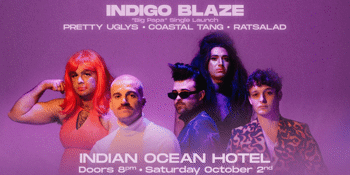 Indigo Blaze
Pretty Uglys, Coastal Tang & RatSalad.
Indian Ocean Hotel (Scarborough, WA)
Saturday, 2 October 2021 8:00 pm
Since playing their first live show in 2019 INDIGO BLAZE have been lighting up stages across WA bringing their unique party anthems and electric live show. Known for not being scared to jump across genres the upcoming single "BIG PAPA" once again unlocks another sound. Channelling funk, disco and hip-hop all into one this new single again breaks boundaries and gets a party started.
To launch "BIG PAPA" the lads will be heading back to their spiritual home the Indian Ocean Hotel on Saturday 2nd October for a party of the ages with support from some of the best acts in WA right now including Pretty Uglys, Coastal Tang and RatSalad.