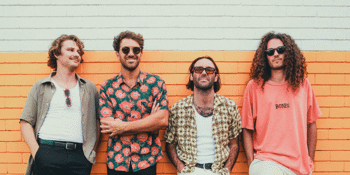 CARAVÃNA SUN single launch | 'STELLA'
Paige Valentine, Clay Western
Indian Ocean Hotel (Scarborough, WA)
Friday, 28 January 2022 6:00 pm
CARAVÃNA SUN
returns with uplifting new single 'STELLA'
Caravãna Sun
have consistently courted praise for their dynamic live performances and energy. With a focus on reminding us that even in the darkest times, beauty and meaning can be found, the band returns with a bright new single in 'Stella'. Taken from the band's forthcoming new album, it's a striking new step forward for the band.
An intensely personal song, 'Stella' is a song about relationships and connection, and the shifts in perspective that can happen within us all following monumental life occurrences. And while the genesis of the song stems from a specific real life experience, a song like 'Stella' remains accessible and speaks to life's ins and outs broadly speaking.
SMART URL |
STREAM - INTERNAL MEDIA USE ONLY
|
DOWNLOAD
|
MEDIA ASSETS
Says Caravãna Sun's Ant Beard, 'Stella' was originally written for a close friend who had suffered a miscarriage. Witnessing the grief and recovery process inspired Ant to write 'Stella' as a way of representing the joy and excitement this unborn life had brought, and to remind his friend of the positive energy the child had brought to their lives.
"'Stella' was written as a reminder that even in the darkest of times, there's always a shift that goes on inside of people. A changing of perspective or a lens on life we'd never seen through before. I wanted to remind my friend that even though they'd never get the chance to hold their baby, there'd been a monumental shift in them. A light I'd never seen before; an energy behind every word, that spoke with such deep empath and true authentic excitement for what this new life meant to them."
Recording of the track was completed by Ian Pritchett up in the Blue Mountains, with Ant deciding not to share the song with the rest of Caravãna Sun until the actual studio day. Changing up the dynamic of the process brought new energy to proceedings, leading to this strong final result.
"Normally we'd work on our parts in pre-production and be very prepared, but there was something different about this song. Some quiet voice that wanted to put everyone on the spot and see how they'd relate and what they'd play, after hearing it for the first time. It created an energy in the studio that was beyond special and turned the song into something that is truly greater than the sum of its parts."
Working with videographer Joel Bryant, Caravãna Sun incorporated still imagery in with live performance footage, capturing the energy and mood of 'Stella'. Utilising black and white, as well as bursts of colour, a simple idea is implemented and executed in a great way.
WATCH HERE
Caravãna Sun navigated their way through 2020 determined to see their ambition for new music through. The release of singles 'Charlie' and 'Afterlife' drew more acclaim for the Sydney indie-sruf rockers, following on from news of their international signing deal with Berlin's Embassy of Music.
Already in 2021, Caravãna Sun were able to reconnect with fans in Sydney, enjoying four sold out dates at The Lansdowne. An enticing taste of the live shows still to come, Caravãna Sun used these shows as an opportunity to get back into the rhythm of performance after 2020 robbed them - and so many others - of numerous touring opportunities.
Tickets are currently on sale for Caravãna Sun's next run of shows, taking the band around the country from February, through into May.
PRAISE FOR CARAVÃNA SUN
"...Just the right tempo and temperature on this one from
CARAVÃNA SUN
, it's got that late arvo feel to it that still has some warmth but nothing too sizzling."
Triple J, Declan Byrne ('Afterlife', 2020)
"It's March 2020. We're all stuck inside. And though that'll hamper this hard-gigging band from getting out amongst their fans, I gotta say that they've dropped this song at the right time. Takes you away to somewhere expansive and sun-caressed."
Triple J Unearthed, Dave Ruby Howe ('Charlie', 2020)
"
Caravana sun are at their buoyant best on this new jam. it's vibrant and full of hooks and charm and i'm going in again for sure" 4.5 / 5
Triple J Unearthed, Declan Byrne ('Stella', 2021)
CARAVÃNA SUN TOUR DATES
Tickets via
www.caravanasun.com
Saturday 27th February
Solbar Sunshine Coast – SOLD OUT
Sunday 28th February
Woolly Mammoth Brisbane
Thursday 18th March
Mojo's Fremantle – SOLD OUT
Friday 19th March
Indian Ocean Hotel Perth – SOLD OUT
Saturday 20th March
Silverstream Denmark – SOLD OUT
Friday 30th April
Divers Tavern Broome – SOLD OUT
Saturday 1st May
Divers Tavern Broome – SOLD OUT
Friday 2nd July
Indian Ocean Hotel Scarborough (2nd show)
Sat 3rd July
Beerfarm Margaret River
Fri 9th July
Whalebone Brewery Exmouth
Sat 10th July
Northwest Brewing Co Karratha
Sun 11th July
Northwest Brewing Co Karratha
Sat 31st July
Tilba Valley Winery & Alehouse Tilba
Fri 20th August
The Gasometer Melbourne
Official Website
|
Facebook
|
Instagram
|
YouTube
|
Triple J Unearthed
Beehive PR:
Sammie Anschau
sammie@beehive-pr.com.au
0408 738 054