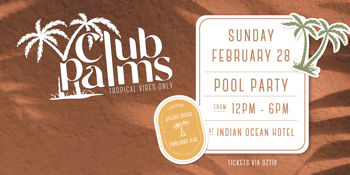 Club Palms Launch Pool Party
Indian Ocean Hotel (Scarborough, WA)
Sunday, 28 February 2021 12:00 PM
Welcome to the club!
Club Palms prides themselves in strictly Tropical Vibes Only, which means, sun, beach, cocktails, switching off from the outside world and goooood times!
Come have a staycation and forget about work and life's problems from 12pm-6pm at Indian Ocean Hotel on Sunday 28th of February (long weekend)!
This is the official launch party on what's to come this year from Club Palms!