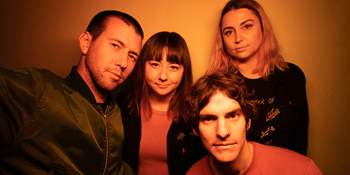 Ursula
Bexx, Homebrand, Muscle Club
Indian Ocean Hotel (Scarborough, WA)
Saturday, 16 January 2021 8:00 pm
Join Ursula with friends Bexx, Homebrand and Muscle Club as they launch the video clip for their track 'Hollow' at Indian Ocean Hotel. Ursula are the combined musical talent pool of some of Perth's most intense and engrossing live acts, featuring Robbie Rumble (The Love Junkies) and Ashby Ranson (Pat Chow), backed by the fuzzy and intelligent bass lines of Sara (New Talk) and intensity of Tyler (New Blood) on drums. The band are set to release the video clip for their ethereal shoegaze track 'Hollow' before clamouring into the studio to record their debut album later in the month.

Tickets and capacity are limited, grab a ticket now!

We acknowledge that these events are taking place on stolen land. We acknowledge that sovereignty was never ceded and pay our respects to elders past, present and emerging. Always was, always will be Aboriginal land.