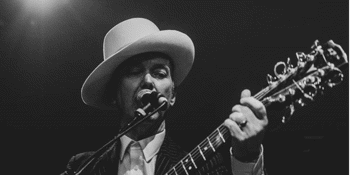 Dave Graney
Indian Ocean Hotel (Scarborough, WA)
Sunday, 1 March 2020 8:00 pm
Touring solo to support his second album for 2019, coming hot on the smoking wheels of ZIPPA DEEDOO WHAT IS/WAS THAT/THIS?
That was a "band" album – a "mistLY" album and this is an album of songs. The focus was on the eleven fantastic songs. ONE MILLIONS YEARS DC
Pop sounds from the end of the world. How is it ending for you?
ONE MILLIONS YEARS DC by Dave Graney and Clare Moore
A vivid, rich and sparkling collection of songs. Reflective, searching and personal.
Starts with a Kinksy groover sketching a 21st century populist tyrant who coasts in power on waves of public resentment at those on the lowest rungs of the ladder (He Was A Sore Winner). Sweeps across a sci fi terrain with nods to songs in the sand at the end of the world (Pop Ruins) and nods to the ties that bind in the underground communities (Comrade Of Pop and Where Did All The Freaks Go?). Songs about intense, long relationships, defunct technology that didn't answer back, severe social status definition (I'm Not Just Any Nobody), people wandering through your mind as if it was a garage sale, the anxiety of the long running showman (wide open to the elements again) and ends with a song that's "a little bit Merle Haggard and a little bit Samuel Beckett".
" Edith Grove! Powys Square! 56 Hope Road! Petrie Terrace!..The Roxy! The Odeon! Apollo! Palais! Olympia! The Whisky! Detroit Grande!" Pop Ruins!"