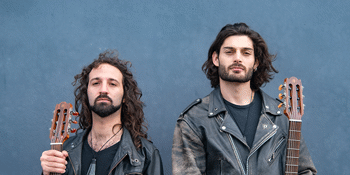 Opal Ocean
Ben Catley & Bambuseae Rhythm Section
Indian Ocean Hotel (Scarborough, WA)
Saturday, 11 December 2021 8:00 pm
OPAL OCEAN
Since the very beginning, every step that the guitar duo of Alex Champ & Nadav Tabak have taken with their Prog/Acoustic Flamenco Rock music as Opal Ocean, has been a massive leap forward in their evolution & career. With their incredible dedication to their craft, Opal Ocean has managed to beat all of the odds, rising from what were once humble street buskers with big dreams, to playing stages found all over the world.
With the release of their title-track as the lead-single, in addition to the follow-up of "Polycephaly" featuring an assist from the legendary Jordan Rudess of Dream Theater, Opal Ocean have ensured that the excitement surrounding their music is fully justified by maximizing their own potential in a powerful lineup of ambitious songs that plays with the genuine X-factor of a pure sonic force to be reckoned with.
https://www.youtube.com/watch?v=TQ1eHtdVQPQ
https://www.youtube.com/watch?v=6WY5S3mDtsY
BEN CATLEY
Ben Catley's mesmerising guitar playing, huge vocals and uplifting stage presence have seen his live shows become renowned for their energy and craft. Performing at festivals amongst the likes of Xavier Rudd, John Butler and Ben Harper all around Australia, New Zealand, UK and further across the world, Ben weaves effortlessly between wild and beautiful moments, with the biggest look of joy on his face.
THE BAMBUSEAE RHYTHM SECTION
The Bambuseae Rhythm Section (pronounced Bam-Boo-See- Ay) are a six-piece groove-based band hailing from Fremantle, Western Australia. They combine their individual musical influences to deliver a fusion of original funk, rhythm & blues, rock & roll, psychedelic, groove-based music. Their songs are laced with catchy hooks and solid percussive rhythms designed for dancing your worries into oblivion.
Armed with their motto, "The People Must Dance", this energetic act is true to their word, stirring up the local music scene with their upbeat and memorable live shows by providing music that is impossible to sit still to.