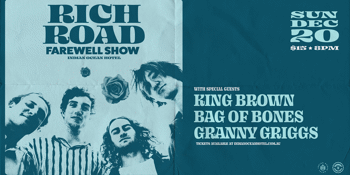 Rich Road Farewell Show
Granny Griggs, Bag of Bones, King Brown,
Indian Ocean Hotel (Scarborough, WA)
Sunday, 20 December 2020 8:00 pm
As the year yet comes to an end, the fellas at Rich Road have decided to hang up the boots for now and throw a farewell show at the Indian Ocean Hotel! The last 4 years have been a blast for the boys, having supported

touring bands such as Death By Denim (WA), Verge Collection (WA), Bugs (QLD), Wooly Mammoth (WA) and Almond Soy (WA) and The Smith Street Band (VIC), but with 2020 throwing constant curveballs, a decision had to be made. Get down to the Indian Ocean Hotel on Sunday 20th December as the boys play some newies and oldies alongside good mates Granny Griggs, Bag of Bones and King Brown, it's going to be one hell of a party!