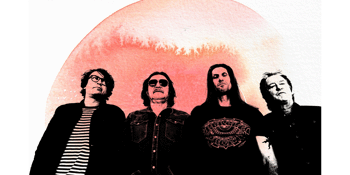 Datura4 with special guests Vancool.
Vancool
Indian Ocean Hotel (Scarborough, WA)
Friday, 21 August 2020 8:00 pm
Hot on the heels of their critically acclaimed third album, "Blessed is the Boogie", Datura4 have hit the motorway running for another sonic journey through burning boogie, dirty blues grooves, psych and rock & roll landscapes on follow-up opus "West Coast Highway Cosmic".
Datura4's fourth LP was conceived and recorded at Killerwatt (Scarborough) and Real2Reel (Bunbury). Both studios located off the picturesque coastal highways that stretch along the south west coast of Western Australia.
"West Coast Highway Cosmic" steps on the gas and stretches out the jams while taking in the sights and interesting detours along the way. The nucleus of Dom Mariani, Warren Hall and Stu Loasby are still at the helm of Datura4 while recently recruited keyboard player Bob Patient comes into the line-up to play a more significant role on the album, adding to the mix with Hammond organ, upright piano, Moog and Clavinet. Harmonica player Howie Smallman is also back for the ride featuring on several tracks.
The opening title track sets the scene as if it were written for a weird sci-fi action movie. 'Wolfman Woogie' takes us on a trippy and epic jam to the bone-shaking 'Mother Medusa' as the wheels keep spinning toward the blues and grooves of 'A Darker Shade of Brown', 'You're the Only One' and 'You Rule My World'. The hooky 'Give' and funky 'You Be the Fool' leads us to the full tilt punk and roll of 'Get Out' before we reach our destination with the epic closer 'Evil People Pt.1'.
"West Coast Highway Cosmic" sees Datura4 stretch out and experiment with their sound built up over 4 albums since their debut release "Demon Blues" in 2015. We hope you dig!