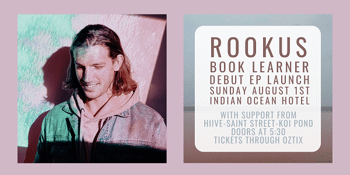 Rookus
Koi Pond, Saint Street and Sofa.
Indian Ocean Hotel (Scarborough, WA)
Sunday, 1 August 2021 5:30 pm
For Perth musician Rookus, 2020's lockdowns were an excuse to hone in on ideas and sketches which had never made it out into the world. Working remotely with producer Mason Vellios of MV Studios, lyrics made their way from the notes section of an iPhone to fully fledged songs, eventually becoming the 5 tracks which make up Rookus' debut release, Book Leaner.
Drawing on experiences from several years living and working overseas, Book Learner details the formative experiences of being far from home whilst traversing the challenges of young adulthood- relationships, hangovers, and dead-end jobs to name a few. Introspective and sonically varied, the EP will be debuted on stage with fellow Perth musicians Tim Phillips, Julian Sorgiovanni and Alec Sorgiovanni, who bring grit and stage experience to songs which tread the line between punk and indie rock. Also joining Rookus at the iconic Indian Ocean Hotel on August 1st will be local heavyweights HIIVE, Saint Street and Koi Pond.
Indian Ocean Hotel, Scarborough - Doors at 5:30pm