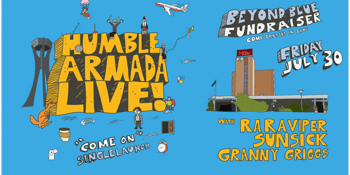 Humble Armada
Humble Armada Live!
Ra Ra Viper, Granny Griggs & Sunsick
Indian Ocean Hotel (Scarborough, WA)
Friday, 30 July 2021 7:30 pm
Celebrate the release of Humble Armada's new single, 'Come on', at your favourite Perth venue, the Indian Ocean Hotel. All proceeds of this event will be raising funds towards a charity very close to our hearts, Beyond Blue. Joining them on stage, all dressed in blue are your favourite Perth acts, Ra Ra Viper, Granny Griggs and Sunsick! Wear your favourite blue outfit or an item of blue on the night to show your support to a great cause! Tickets TBC. 18+ ID required.