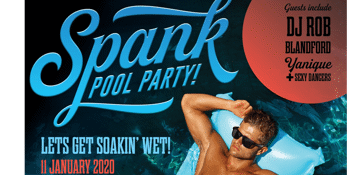 Spank Pool Party
Indian Ocean Hotel (Scarborough, WA)
Saturday, 11 January 2020 1:00 pm
LGBT+ SPANK Pool Party
Lets Get Soakin' Wet!
A hidden sanctuary awaits you! On Saturday, January 11th, 2020 we're opening the biggest Pool Party with the launch of Spank!

In a Nevada meets Tiki-style oasis, uniting a cast of flamboyant friends and sexy strangers, every nook of the Outdoor Pool, Heated Indoor Spa, Dance floor, Pool Bar and Restaurant of Scarboroughs Indian Ocean Hotel, DJs, Entertainment & YOU will hang out and frolic in the sun and survey the stunning scenes at this fun and cheeky new event, thats the epitome of summertime celebrations!

Tantalising cocktails, lounges, your local LGBT+ dance and house DJs… and Speedos and Bikini galore. The new Sp@nk Pool Party is the perfect way to make a splash in the new year!

Once again, our colourful and vibrant, rainbow community, will show it's true soul. The trusted soul of Acceptance, Freedom and Unity. Unity in it's most basic form… Party!

Spank will have something for everyone!