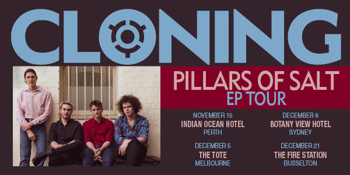 Cloning 'Pillars of Salt' EP Launch
Indian Ocean Hotel (Scarborough, WA)
Friday, 15 November 2019 8:00 PM
Perth pop rockers Cloning are touring Australia for the first time in support of their debut EP 'Pillars of Salt'.
It's been an exciting year for the band with a WAM Song of the Year nomination and packed hometown shows. As X-Press magazine comments, "one moment they didn't exist, and the next they were measured against some of Perth's best. It's easy to see why".
On their debut EP Cloning combine elements of rock, pop, trip hop and shoegaze. Pilerats say Cloning's debut sees them, "refusing to be placed into a box; their sound the meeting point of many of their big influences – trip-hop, electronica, indie, dream-pop, psychedelic indie-rock".
The tour begins on November 15 with a hometown show at the Indian Ocean Hotel and will see Cloning play shows in Perth, Sydney, Melbourne and Busselton.
Catch Cloning at the Indian Ocean Hotel in Perth on November 15.